---
Thanks to everyone for a great conference! We hope to see you next year at MWSUG 2010 in Milwaukee, Wisconsin, October 10-12, 2010.
---
Midwest SAS Users Group Conference
Cleveland, Ohio
October 11-13, 2009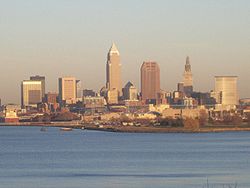 The 2009 Midwest SASŪ Users Group Conference will be October 11th - 13th at the Marriott Key Center, located in the heart of Cleveland, Ohio.
MWSUG is the premier SASŪ educational forum in the region. MWSUG is a non-profit, all-volunteer user group and is officially recognized by the SAS Institute.
This year's conference will be our 20th and will provide numerous seminars, workshops, tutorials, and other training to enhance your SASŪ skills as well as opportunities to network with other SASŪ users. In addition, staff from the SAS Institute will be there providing their unique expertise and insight. We are also bringing in some of the industry's best and most popular SASŪ educators to provide extensive pre-conference, in-conference, and post-conference training seminars.
As a special bonus, this year's conference includes a special networking event - a riverboat dinner cruise on Lake Erie on Monday evening.